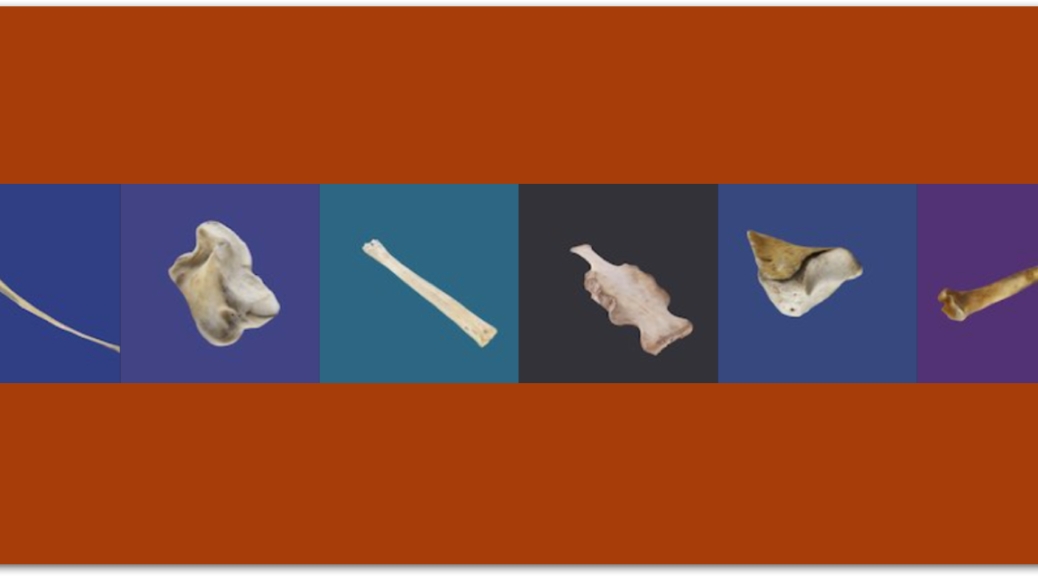 Virtual 3D Animal Bone Models
Virtual 3D Animal Bone Models
Zooarchaeology is a field within archaeology that seeks to answer questions about past human occupation and their environment through the study of animal remains1. In practice, this means that a zooarchaeologist must be an expert in identifying animal bones. However, animals come in diverse shapes and sizes. How can someone develop expertise in such a broad field?
Having a comparative reference collection is key for understanding and formulating distinct patterns among differing species. And this is where I come in. I have just finished a project that helps lay the foundation for zooarchaeology students to build their proficiency in bone identification. Over the last four months, I have created a series of virtual three-dimensional models of deer bones. Everything from a deer's cranium to the phalanx (or toe bone) is captured in this digital collection. Below you can explore some examples of these models:
So, how do you even start to create a 3D model? Well, it starts with taking dozens of photos of each bone element. I then loaded the photos into a program called Agisoft's Photoscan which "stitched" them together; by taking multiple photos from different angles and views, the program was able to compile these series of two-dimensional images and transform them into virtual 3D models. After the deer bones were modeled, I uploaded them onto Sketchfab, a website that allows users to display, embed, and share 3D models online. Sketchfab is particularly helpful for this project because it allows students to view the models on smartphones, tablets, and computers alike. It also has the feature to place annotations within each model, as evidenced by the standard measurements and points included on each bone.
I will find out this summer how these models work in practice, for several students from George Mason University (GMU) are flying to Mexico to examine animal remains in the field as part of the Project Plaza of the Columns Complex (PPCC). I spoke with one of the students, Leila Martinez, about how she has prepared for this challenging task of traveling and working without a deer comparative and how she thinks 3D models might help her this summer.
According to Leila, learning zooarchaeology requires extensive hands-on study of bones. With the absence of physical bones in hand, students often rely on animal bone manuals, though these often contain hand-drawn images from few static views. She believes that 3D models may make bone identification easier by letting students interact with realistic images. While 3D technology will never be able to replace the direct tactile experience of working with real bone, in time, these 3D virtual reconstructions could rival traditional reference books. After all, books are bulky and often times expensive, and a digital skeletal collection can be easily transported and manipulated all by the swipe or click of a finger.
Students coming to Teotihuacan for zooarchaeological fieldwork can be an exciting and perhaps a little apprehensive experience, especially when one doesn't know what to expect when joining the PPCC team for the first time. Is there a skeletal reference collection I can use? How complete is it? In what state are the bones I will be analyzing? Several GMU students like Leila and me already have firsthand experience handling bone with cleaning and labeling the many (or shall I say thousands of) animal remains in our Archaeological Sciences lab. Although real world archaeological assemblages are surely more complex with fragmented, commingled, and/or missing bones, I know the hard work I put into preparing these models of complete bones will help zooarchaeologists to confidently identify the specimens they encounter. Creating virtual 3D reference models is a time-consuming endeavor, but in the end I expect these easily transportable, full of detail, and user-friendly products will play a much larger role out in the field than anticipated.
References
1. Steele, T. E. 2015. The Contributions of Animal Bones from Archaeological Sites: The Past and Future of Zooarchaeology. Journal of Archaeological Science 56: 168–176.