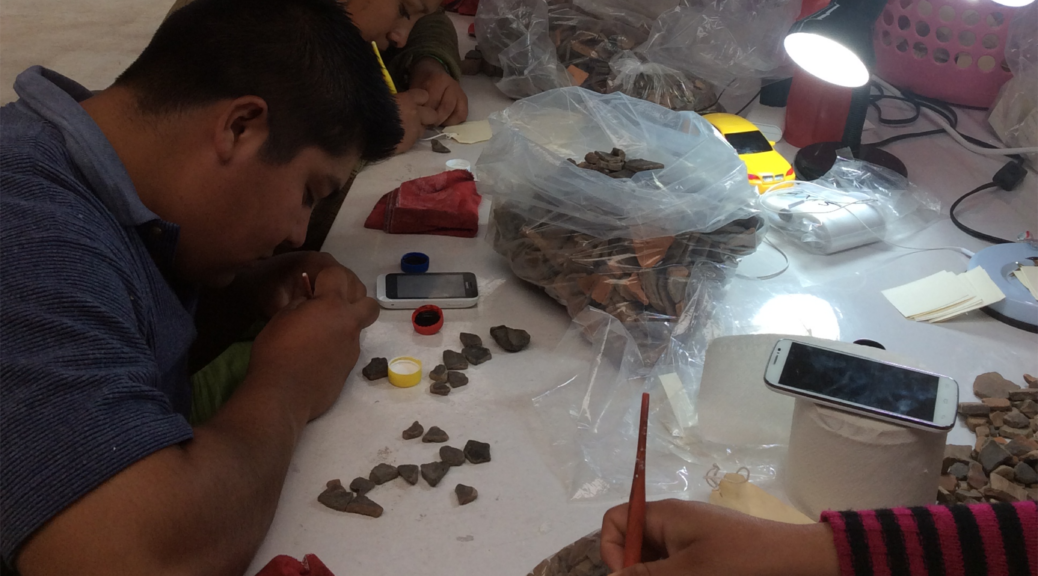 Materials conservation
Materials conservation
Curatorial activities and conservation of materials
Once the field season ends, one of the priorities is to curate the archaeological materials. This includes the proper care and maintenance of the recovered materials. Let's take a closer look at what's involved in these processes.
During excavation, artifacts and ecofacts are placed in plastic or paper bags — depending on the type of material — along with their respective labels containing information about the context in which they were recovered.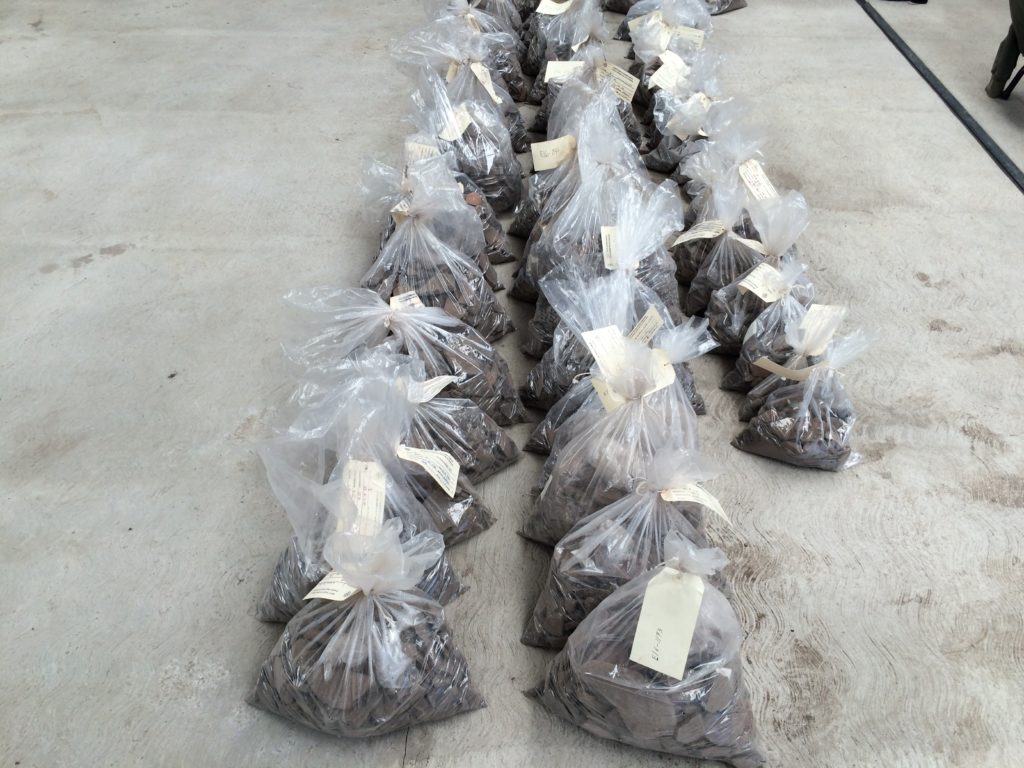 Once the materials arrive to our laboratory, the next step consists of opening the bags and washing the materials. Artifacts and ecofacts usually arrive covered in dirt, and sometimes the soil matrix contains microorganisms or chemicals that can affect the preservation of materials if they do not receive appropriate curatorial processing, which is why it is critical to wash them. Some materials like bones and wood are very fragile and require separate treatment with proper cleaning methods.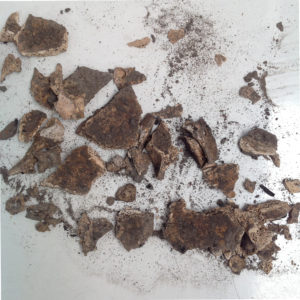 Cleaning methods vary by material type and preservation condition. Cleaning is done carefully. To avoid mixing materials from different fronts and pits, we clean only one bag of material at a time.
We clean ceramics and obsidian artifacts by brushing them in water to remove any excess dirt. Bones are generally dry brushed, although they can also be wet brushed, depending on their condition. Then the materials are left to dry. Drying protocols also varies with material type and preservation condition. For example, sherds and obsidian are sun dried because they are very hardy and are usually very well preserved. Bones, on the other hand, are more brittle, so they are placed on a table to dry at room temperature.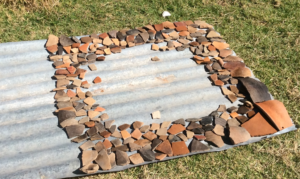 All dried artifacts are labeled by its bag number to ensure the contextual information is never lost.  The main picture featured above is of our lab crew marking materials. Although at first glance, this work may appear simple, yet it requires both patience and good command of the pen points and their holders. Plus, you must have good handwriting so the labels are legible.
As you can see, these curatorial processes are very demanding and  require a lot of time and care, so it is preferable to begin these processes as soon as possible. To achieve this, the participation of local workers even after the field season is over is vital. The lab crew are supervised by an archaeologist, and together, over 6,000 bags of various artifacts and/or ecofacts were recovered during the first season of the project. The majority were composed of fragments of pottery or sherds, which are abundant in the area. Each of these bags of material can contain anywhere from one to about 3,000 artifacts. Can you imagine the time required for curating all these materials? During this project, the process of curation took us approximately 10 months. That means 1,600 hours of curating the materials from the first season of excavation.
If you think that is an amazing amount of labor, lab work is not complete yet. Curating materials only results in proper conservation and organization in preparation for the arrival of specialists to conduct analyses of each material type. Much of the work of an archaeologist is analyzing materials in the laboratory. It is said that for every year of excavation, an archaeologist needs at least five years of work to review all materials recovered; a task that requires collaboration among many specialists, archaeologists, and the local workers.
If you want to know more about the type of analyses carried out in this project, visit our sections on Research – Fieldwork and Analyses.